Latest Articles
The BritNerf 3rd Anniversary Photo Competition
Just an update for you all, I will have the 1st prize blaster ready to show you all next week. It's going to look and perform like nothing else, with a 1st use in Nerf hydro dip film as well as all the top flight goodies from the best UK mod suppliers. It will be available fully complete with charger (worldwide compatible 11-18vDC) and 2200mah 2s Lipo, or without charger and pack if you have your own. Don't wait- get your Nerfie in today! Remember you can change the one you have submitted right ...
Nerf Zombiestrike Doublestrike
This blaster wasn't exactly first on my "to buy" list for many reasons, the first of which being the prohibitive £9.99 price tag, but a mod project of mine required its internals and I figure I might as well share my findings. Sadly, I was a little too eager to get started and don't have any box shots for you but we all know what nerf packaging looks like, right?
So, here we have it, the blaster itself:

[img:a0279235df]http://i50.photobucket.com/albums/f339/dracomageat/IMG_1264_zps ...
Huge 2015 leak (from Pocket)
Berserker looks like the scrapped dual drum to me.Just saying.
Rhino fire and slingfire at argos
http://www.argos.co.uk/static/Product/partNumber/2819220.htm

Theres also the messenger, doublestrike,agent bow and rapid red under the term "blaster".
Halo Recon
Customised Recon. Barrel extension added. Trade marks removed. Finished in a Halo style with custom decals. 18 dart clip. £55 posted out.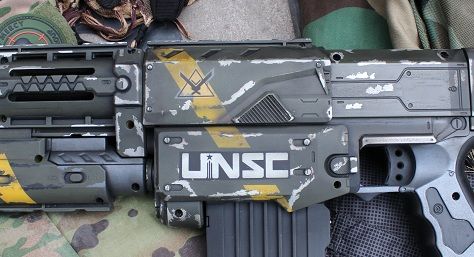 [img:f61d077c0 ...
Some new chinese darts
These are so cheap I thought id take a gamble and see whats what. Hopefully they are the correct length with decent tips. Also Red darts for HvZ


http://www.ebay.co.uk/itm/New-50x...sbro-NERF-Strike-UL-/121434712365

don't expect a review for a while - 9-21 days shipping.
Modification/Paintjob pictures.
TheonlyJP's AT3K. Internals and mods by Franticblue, bodywork by me! Shoots about 130fps.




Hydrodip- Real Fire skulls over platinum silver base coat. 3 coats of lacquer. Scratches by JP.

Built following Noms AT3K overhaul guide. Massive thanks to those who sent parts and the entire new blas ...
The Cycloneshock.
I do not why it has not been posted here yet, but the latest sneak peak from hasbro.

Props to SBNC for the find:
http://southernbrisbanenerfclub.b...a-cyclone-shock-and-bigshock.html

I have never given the MEGA line up much consideration. The centurion wasn't my thing (although handling one has given me food for thought!) and the Magnus didn't do it for me with the 3 dart capacity and the thunderbow looks thunderpants, so no, no interest!

This how ...
Nerf wars and LARP
What's the difference between Nerf wars and LARPing?

Chris
Twibz's Mod plog blog
Howdy,

So I thought I'd get a mini blog going on my planned mods, mainly for encouragement.
Over the coming months, when I might have more free time* I'm planning on doing a few things on some of the armoury.

In my collection:

4 Deploys - With the issues associated with deploys...
2 Stempedes - Damn, Stempede, you heavy
3 Barriades - 2 Already slightly modded with e-tape for use with streamlines
2 Longstrikes - beauty of a blaster, shame it doesn't live up to the aestetic of a snip ...